Miniature Zinc Die Casting
Miniature and sub-miniature zinc die casting is a precision fabricating process offering design flexibility, complex geometries, enhanced material properties, precision, and cost-effective production. The process is especially effective as a replacement for machined parts, stamping and assembly.
Along with its zinc die casting capabilities, MCC also offers:
In-house secondaries (tapping, secondary machining)
Finishing (plating paint and powder coat)
Assembly
Kitting
Specialty Packaging
Design Advantage
MCC, with its four-slide and conventional die casting machines, produces complex components with tight tolerances. Tolerances of +/- .002″ are routinely held, and in certain applications, +/- .0005″. This level of accuracy is consistent and repeatable over the entire life of the part. MCC's mature ISO quality system provides customers with product that meets or exceeds requirements by utilizing FMEA's, PPAP's, SPC and Continuous Improvement.
Low component costs
Lower assembly costs
Tight, dimensional tolerances
Complex shapes and geometries
Thin wall sections
High mechanical properties
Good physical properties
Excellent surface quality
PCMCIA Heat Sink
Material:  ZAMAK #3 Electroless Nickel Plated
Rough Dimensions: 2.2" x 1.4" x 0.2"
This part is an example of the thin wall, precision tolerance and feature casting capabilities of Miniature Casting Corporation.
---
 LP Gas Valve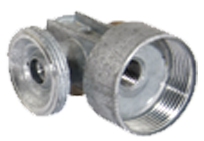 Material:
ZAMAK #3 Impregnated with Loctite Resinol RTC
Rough Dimensions:
1.7″ x 1.4″ x 1.1″
Part is supplied complete with tapped holes, machined face and protection cap for shipping.
---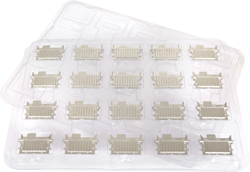 Miniature Casting Corporation can support a range of specialty assembly and packaging requirements to accommodate international shipping, assembly prep and feature preservation.